Other products
Paints and adhesives for optical elements
The coatings and adhesives providing the underlying quality of optical products solve a wide variety of problems associated with optical properties.
We offer an array of products that, for example, prevent internal reflections when applied on lenses or stably secure optical elements.
See the manufacturer websites for details.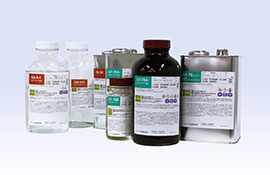 Articles and Supplies Related to Evaporation
We have a wide lineup of articles and supplies related to evaporation, so please contact us with any inquiries/requests you may have.
Resistance heating boat
・Tungsten
・Molybdenum
・Tantalum etc.
Electron gun filament
Various types of hearth liners
Monitor glass