Message from President
Helping to build a sustainable society by creating new value through unique materials technologies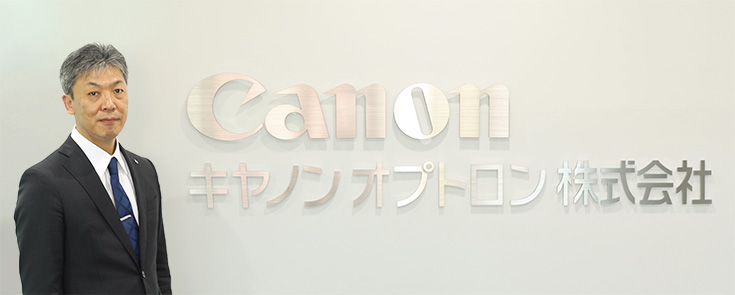 Canon Optron was the first company in the world to successfully mass produce artificial fluorite. At the same time, we also expanded into the evaporation (vapor deposition) materials sector. Placing our effort into growing these technologies, we also grew as a company. Additionally, with "Building the future with chemistry and materials" as a slogan, we are currently expanding our scope of business by developing safe materials that comply with environmental regulations and are in line with the idea of a clean energy society, such as electricity and heat storage materials. Our materials technologies support the growth of a sustainable society.
As a Canon group company, Canon Optron is driven by the corporate philosophy of kyosei as well as the spirit of san-ji (three selfs)—self-motivation, self-management, and self-awareness—which form the foundation of Canon's guiding principles. We are overflowing with vitality and talented people who move forward on their own and rise to the challenge of new jobs, unbound by preexisting ideas.
In addition to being mindful of health, safety, and the natural environment in our corporate activities, Canon Optron will continue to work towards contributing even more to our local community.
We humbly seek your warm understanding and support.
HIROSHI OKU, President