Product list
Pellet-type Material
Easy-to-use, pellet-type materials of various shapes are available, allowing for choosing the one best suited to your hearth liner. Also available are pellets of high thermal shock resistance material that can tolerate the high energy from an electron gun or other energy source.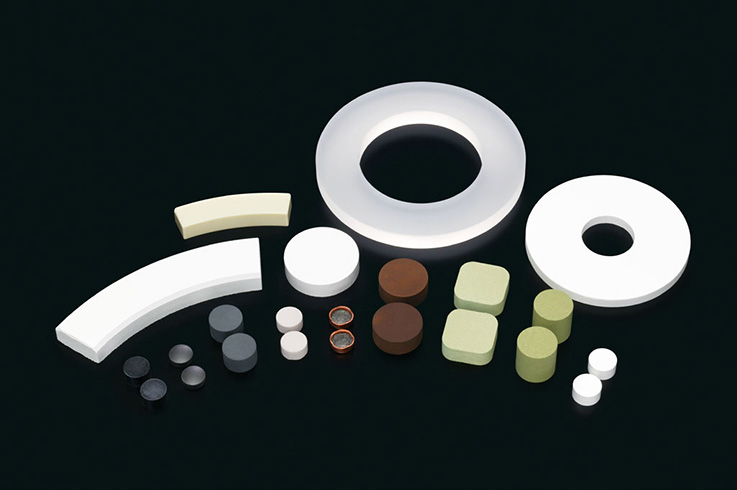 Granule-type Materials
Granule types let you add evaporation materials as needed, so they are suited for continuous evaporation. We also provide low gas granules that emit only a low level of gas, preventing adverse effects on the strength and durability of the film.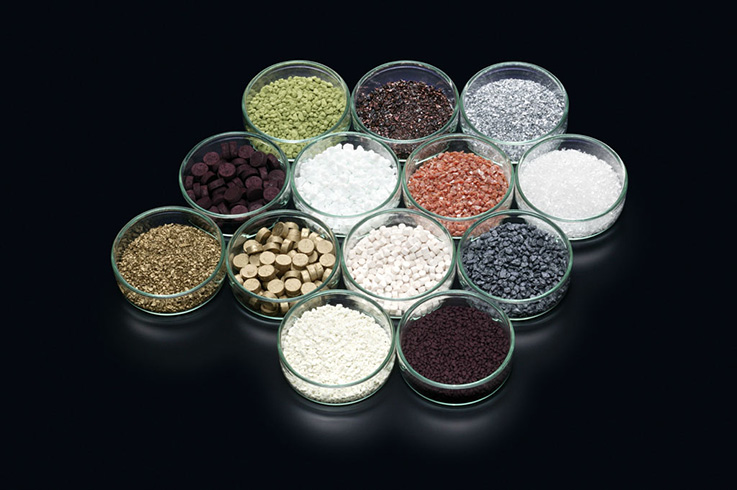 Functional Materials
Functional materials are evaporation materials, which are used to fabricate organic thin films having special functions such as water repellency, antifouling property or other non-optical properties. Unlike the conventional coating method using a solvent, it is possible to proceed to the water repellent or antifouling processing stage just after the anti-reflection coating process because the coating is done by vacuum evaporation.
Evaporation Material Products
  
Refractive index※1
Product name
Main compound
Pellet※2
Granule※3
Evaporation source
Stress※5
Remarks
EB
RH
Materials for optical films
1.33
Chiolite
Na5Al3F14
○
○
○
Mo,Ta
-
 
1.35
Cryolite
Na3AlF6
-
○
○
Mo,Ta
T
 
1.36
AlF3
AlF3
-
○
×
Mo,Ta,W
T
 
1.38
MgF2
MgF2
○
○
△
Mo,Ta
T
 
1.43
CaF2
CaF2
-
○
△
Mo,Ta,W
T
 
1.47
SiO2
SiO2
○
○
○
-
C
 
1.48
BaF2
BaF2
-
○
○
Mo,Ta,W
-
Transparent in the infrared region
1.48
S4F
SiO2+Al2O3
-
○
○
×
C
 
1.48
S5F
SiO2+Al2O3
○
○
○
×
C
 
1.52
YF3
YF3
-
○
○
×
-
 
1.59
LaF3
LaF3
-
○
×
Mo,Ta
T(Thin film)/C(Thick film)
 
1.60
CeF3
CeF3
-
○
×
Mo,Ta,W
T
 
1.60
NdF3
NdF3
-
○
×
Mo,Ta
-
 
1.64
Al2O3
Al2O3
○
○
○
×
T
Stabilized by the inclusion of oxygen
1.69
OM-4
ZrO2+Al2O3
○
-
○
×
T
 
1.7-2.0
SiO
SiO
○
○
△
Mo,Ta
T
 
1.7-2.0
 LUMILEAD SiO
SiO
-
○
△
Mo,Ta
T
Product of the low splash generation
1.74
MgO
MgO
-
○
○
×
C
 
1.75
OM-6
ZrO2+Al2O3
○
-
○
×
T
 
1.81
Y2O3
Y2O3
○
○
○
×
-
 
1.99
I.T.O
In2O3+SnO2
○
○
○
Ta,W
C
Transparent conductive film
2.00
OH-14
La2Ti2O7
-
○
○
×
T
 
2.00
Nb2O5
Nb2O5
-
○
○
×
T/C(IAD)
 
2.00
Degassed Nb2O5
Nb2O5
-
○
○
×
T/C(IAD)
Requires the inclusion of oxygen
2.05
OA-100
Ta2O5
-
○
○
×
T
Requires the inclusion of oxygen
2.06
HfO2
HfO2
○
○
○
×
T
Transparent in the ultraviolet region
2.07
ZrO2
ZrO2
○
○
○
×
T/C(200℃)
 
2.10
ZrO2+Ta2O5
ZrO2+Ta2O5
○
-
○
×
-
 
2.13
CeO2
CeO2
○
○
○
W
C
Absorbs ultraviolet rays
2.14
WO3
WO3
○
-
○
W
-
 
2.15
OH-2
ZrO2+TiO2
○
-
○
×
T
 
2.16
OH-6
ZrO2+TiO2
○
-
○
×
T
 
2.18
OH-5
ZrO2+TiO2
○
-
○
×
T
 
2.2
Ta2O5
Ta2O5
-
○
○
×
T
 
2.22
OA-500
Ta2O5+ZrO2
-
○
○
×
-
 
2.24
OA-600
Ta2O5+TiO2
-
○
○
×
-
 
2.30
ZnS
ZnS
○
○
○
Mo,Ta
C
 
2.30
OS-30
Ti3O5
○
-
○
W
T
Requires the inclusion of oxygen
2.31
OS-50
Ti3O5
-
○
○
W
T
Requires the inclusion of oxygen
2.33
OS-10
Ti4O7
-
○
○
W
T
Requires the inclusion of oxygen
2.33
Ti2O3
Ti2O3
-
○
○
W
T
Requires the inclusion of oxygen
2.35
TiO
TiO
-
○
○
W
T
Requires the inclusion of oxygen
2.35
TiO2
TiO2
-
○
○
×
T
 
Materials for metal films or other purposes
-
Ag
Ag
-
○
△
Mo,Ta
-
 
-
Al
Al
○
-
△
W
-
Mainly wire-shaped
-
Au
Au
-
○
△
W
-
 
-
Cr
Cr
-
○
-
W
-
 
-
Ni
Ni
-
○
△
W
-
 
Materials for functional films
1.34
SURFCLEAR300
Oil-repellent
○
-
△
Mo,Ta,W
-
Organic material
1.33
SURFCLEAR100
Oil-repellent
○
-
△
Mo,Ta,W
-
Organic material
1.35
OF-SR
Oil-repellent
○
-
△
Mo,Ta,W
-
Organic material
1.55
PHILICFINE HP-1
Hydrophilic
-
○
○
×
-
*Please use Mo,W Hearth
1.65
PHILICFINE HP-2
Hydrophilic
-
○
○
×
-
*Please use Mo,W Hearth
1.81
PHILICFINE HP-3
Hydrophilic
-
○
○
×
-
*Please use Mo,W Hearth
2.54 ※4
LUMILEAD TNO
Ti3O5
-
○
○
×
T
Antistatic performance